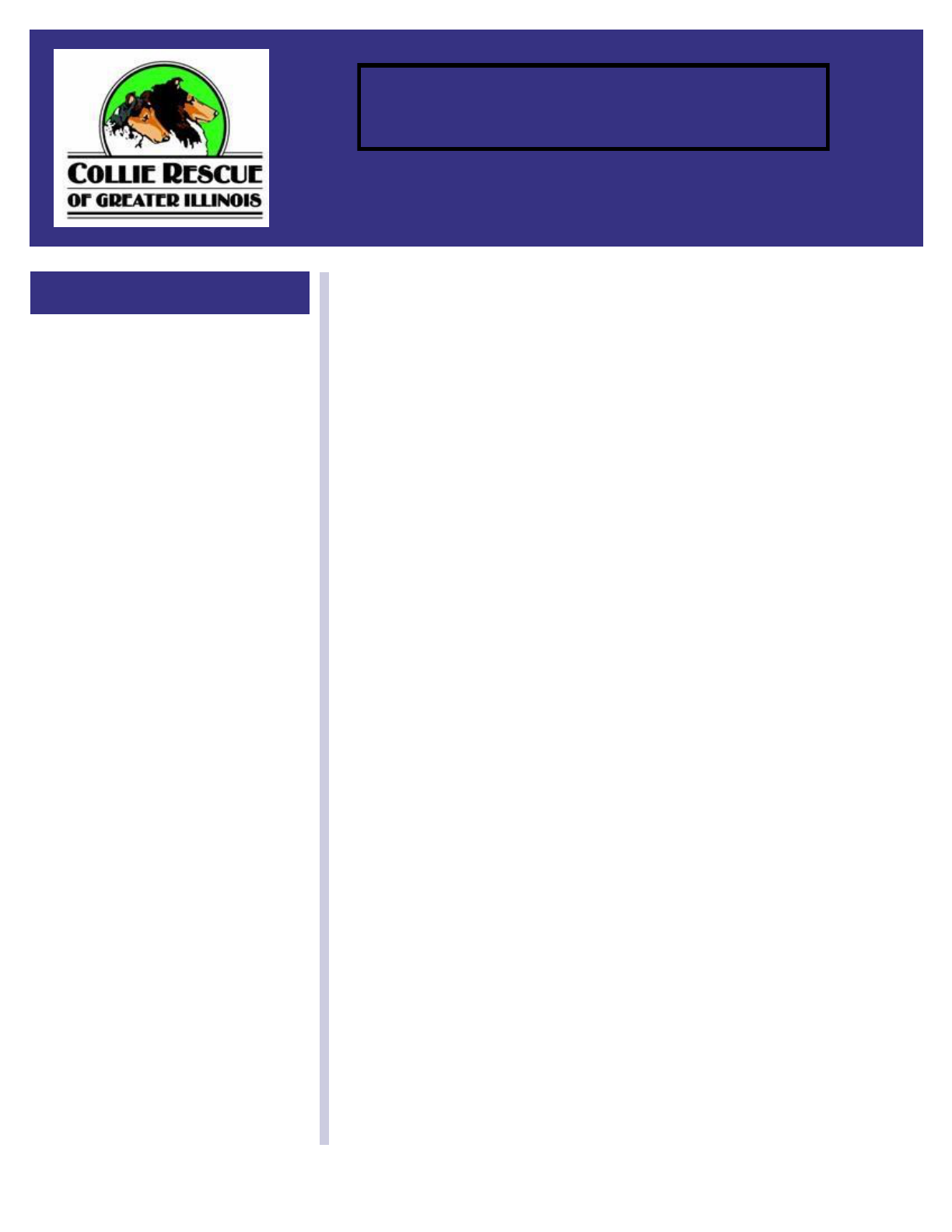 Volume 2, Issue 2, April 2013
A very small group of volunteers
puts in a tremendous amount of
time on day-
to
-day operations to
rescue our wonderful collies. I'm
referring to the CRGI Board of
Trustees, a group dedicated to
keeping this organization running
like a finely tuned machine.
We have the typical organization
positions, including president, vice
president, treasurer and secretary.
But more importantly, we have an
intake coordinator responsible for
finding collies in need and arrang-
ing transportation and medical
treatments. Our foster home coor-
dinator is responsible for placing
the collies with a well-trained
fosterer and our adoption coordi-
nator helps to find a perfect
forever
home. These positions work
closely
together to make the entire pro-
cess run seamlessly.
Without funding, CRGI could not
help collies. That is where the
skills of our fundraising/events
coordinator are needed. This per-
son is responsible for planning all
the events that you, the collie
community, enjoy and support.
There are so many other jobs that
happen in this organization, such
as website and database manage-
ment, contracts and communica-
tion, that I can't list them all. This
is a fine group of individuals who
sacrifice a great deal of time to the
mission of CRGI and I want to
thank all of you.
John Cymerman
By Ellen Keirnan
Now that the Midwest is thawing, it's a good time to be aware of
pet dangers in the yard.
Plants, fertilizers, pesticides, compost and tools pose risks for
pets.
Mushrooms, sago palms, rhododendrons and azaleas can harm
dogs. If ingested, plants can cause vomiting and even liver dam-
age.
Besides the danger of fertilizer in your yard, be cautious of neigh-
bors' yards during walks. Watch for the use of cocoa mulch. A dog
may be attracted to its smell and eat it. The mulch may upset a
Blood meal is another common fertilizer that can cause a pancrea-
titis attack if too much is ingested.
If your dog eats bone meal, a blockage can occur. Because it is
ground bone, a concrete ball can form in the intestines.
Iron is common in fertilizers and can cause vomiting and diarrhea
and lead to cardiac and liver damage in extreme cases.
Be aware of what you are using and be sure to monitor your dog
closely when he's sniffing around.
Mouse, rat, snail and fly baits can be poisonous. So use them
sparingly and maintain a vigilant eye so your dog can't get near
them.
When compost decomposes, it can create molds and gases that
may be toxic. If mycotoxins are present, they can cause vomiting
or even seizures.
Unattended tools can cause puncture wounds, scrapes and infec-
tions if they are left in places that your dog enjoys exploring.
The presence of blue-green algae in a stagnant pond or pool can
be hazardous and neurotoxins can cause death if a dog swims in
or drinks the tainted water.
Hazards in the Garden
See GARDEN, page 2
Behind the Scenes