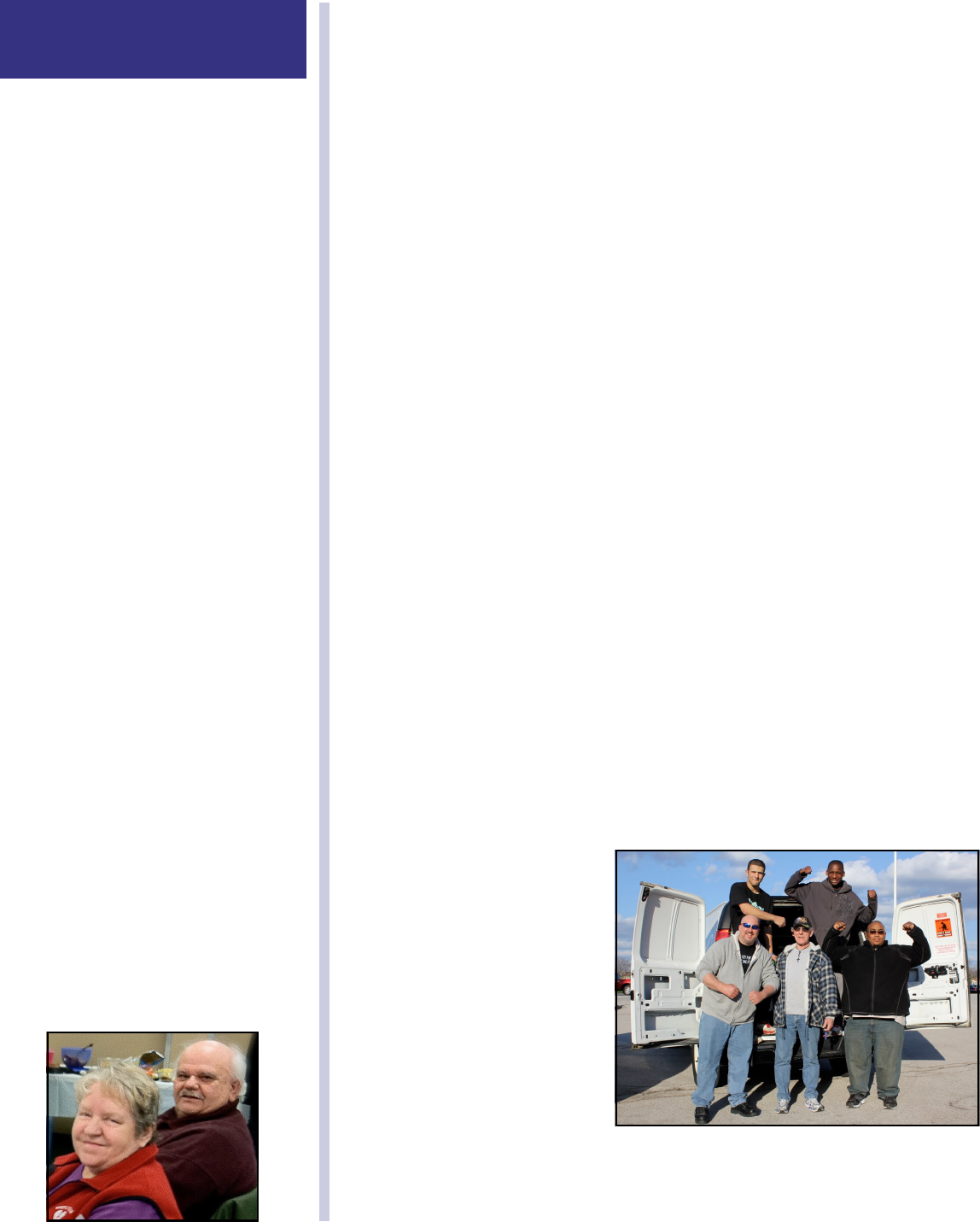 In Memory of
Bill Raia
By Gail Diedrichsen
When CRGI plans an event, co-founder and treasurer Tina Kiselka
"takes the bull by the horns" and calls her moving crew.
One can only imagine the extensive paraphernalia needed to run
a vendor fair, pet exposition, volunteer luncheon or reunion
picnic.
Tina picks up and delivers items from storage for events and
packs everything up afterward. This is not an easy task. Volun-
teers who help with setup or cleanup marvel at how it all gets
done. They also notice that the same guys always do the jobs
that require muscle. They show up in their trucks and move like
well-oiled machines.
When it comes to recruiting
muscle, Tina doesn't need
to look far. These strong
guys, who work without
fanfare, are her family
members. They are part of
her system. With great
pride, she is the first to ad-
mit that her family is awe-
some. CRGI owes these
guys gratitude and a big
pat on the back because it
would not get done without
them.
JAKE, from page 2
3
Sadly, we lost one of our volun-
teers, Bill Raia. Bill and his wife,
Darlene, enjoyed working our
meet and greets with
their adopted
collie, Max.
George Hayes, fellow volunteer,
calls Bill "a good buddy" and re-
members Bill as "an easygoing,
sweet man who didn't let his ill-
Bill and Darlene were childhood
sweethearts, together since they
were 13. This loving couple was
only three months shy of cele-
brating their golden anniversary.
On their silver anniversary, Bill
bought Darlene a house. He knew
a house would not be a home to
Darlene without a dog.
"The day after we moved in, Bill
gave me my anniversary gift
–
our first collie, Lady," Darlene
says. "From that day on, Bill and I
were never without a collie."
Bill was a retired railroad man
with an affinity for steam engines.
As an accomplished author and
photographer, he published two
books, both fueled by his passion
for trains and the desire to docu-
ment their importance in history.
Bill is missed at meet and greets
and he and his family
–
Darlene,
sons Tom and Tony, granddaugh-
ters Lexi, Karis, Stephanie and
collie Max attended our fall
picnics.
Bill will be greatly missed, but we
hope his family continues the pic-
nic tradition in his honor.
"I love the picture my husband took –
the one where they both
have such huge smiles on their faces. Jake's so happy and we are
so happy to have him," she says. "We love him. When I see the
early pictures of Jake, they bring tears to my eyes, even now."
Jake touched us profoundly. His story reaffirms our unwavering
commitment. Rescue work can be emotionally tough, but the re-
wards are abundant. There is nothing more fulfilling than hearing
from adopters and seeing the happy collies in photos.
"I am always so tickled when an adopter keeps in touch. I really
As the adage goes, "A picture is worth a thousand words." A
photo of a healthy, beaming Jake with his new forever family says
it all.
The CRGI event moving crew: (front from
left) Mike Nelson, Ed Kiselka and Greg
Belizaire; (back row from left) Tyler Nelson
Mighty Men of CRGI