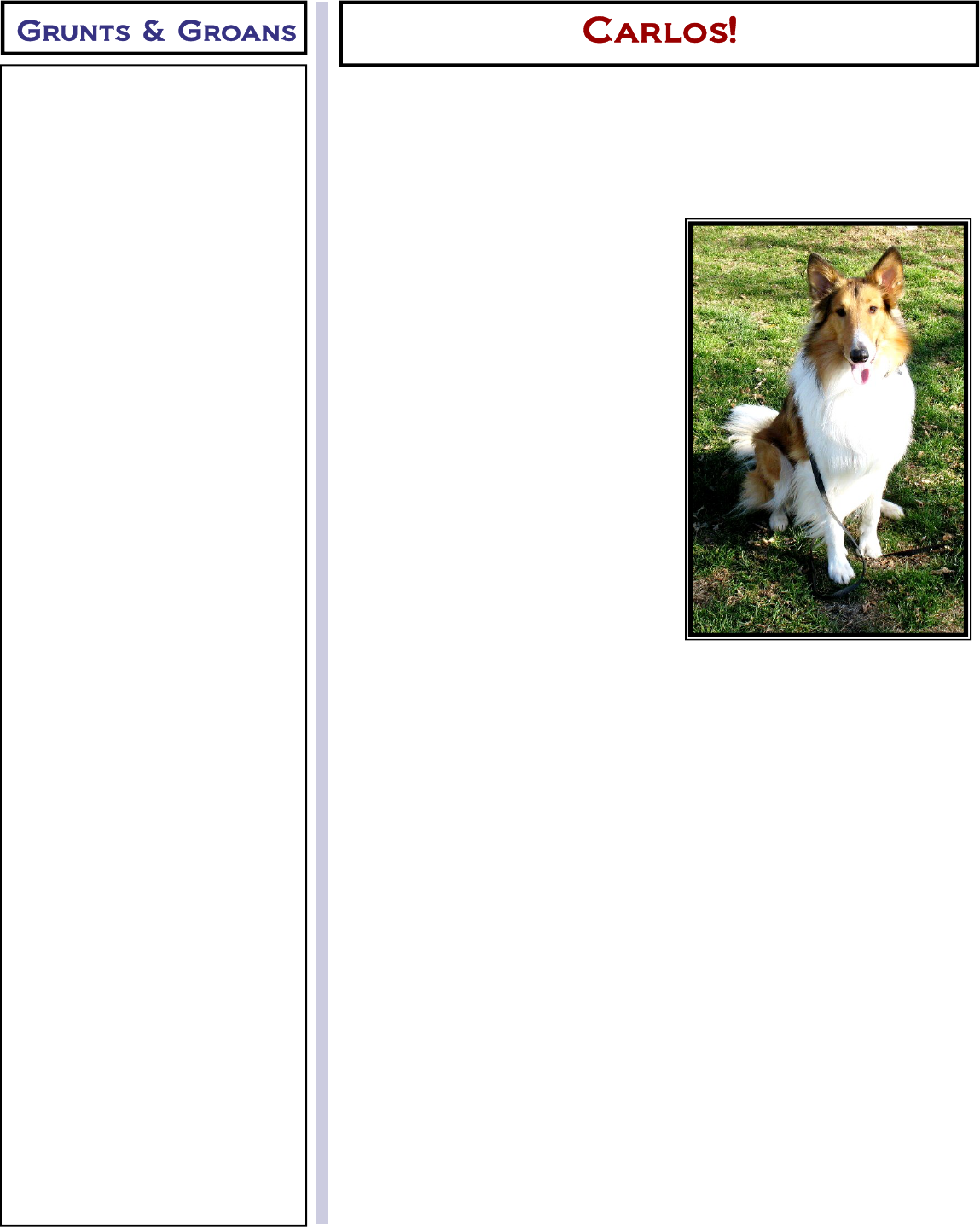 3
See CARLOS, page 4
By Ellen Keirnan
This is a typical CRGI Collie Nose story, about a not so typical collie, Car-
los. When he joined the Collie Rescue family, he had the heard too often
background of being in a loving family until an unexpected event forced
his surrender to CRGI. As a collie with
a known background and owner sur-
render, he was expected to meet all of
the expectations of the collie breed -
a family dog, easy going, fun to be
around, but always a gentleman. Un-
fortunately, no one told Carlos.
His first week with his new foster fam-
ily resulted in an accident that broke
foster mom Kathy Stodgell's arm
when Carlos decided a squirrel was
more important than a leash and the
person at the other end.
His second week he spent with the
foster home of Kate Chrisman. This
time Carlos decided that he wanted to
protest the latest transfer and let his voice be heard. Since sleep during
the day is critical to Kate's husband, as he works 3rd shift, it turned out
that someone had to be home during the day to keep Carlos quiet. Kate
had to call Susie Moncek and give her the bad news that Carlos' barking
was a huge problem for them. So his journey continued.
Vicki Wilder, CRGI president, brought him to her home for some intense
training. He responded, and it became obvious that he was just looking
for that Alpha person to lead him down the right path. Soon an adoptive
home was found and Carlos was placed with a single woman who was
living with her mother. Unfortunately Carlos took advantage of the 80
plus year old mother by stealing her food and almost knocking her over.
Needless to say, this match was not made in heaven.
After another trip back to Vicki's home and another round of training
sessions, it became clear that Carlos could only be placed with a firm
and consistent guardian. He continued exhibiting lots of promise, but
always with major setbacks associated with each step forward. He had
food aggression issues, and was extremely willful whenever asked to
share affection with other dogs. When Vicki's training showed results, a
decision was made to place him back in a family situation to test the
by George Hayes
1. I was watching a well known dog show on
TV not long ago, and naturally, I was wait-
ing to see the most beautiful dog on the
planet, a collie. Waiting for the herding
group about an hour into the show and the
dogs that represented the respective groups
before the herding group were not very
impressive. I felt a victory was certain for
our collies.
Out came the Herding Group with a beauti-
ful rough sable collie and a tri-color
smoothie. Exquisite! They paraded around
with "fake" collies or collie "wanabees" and I
was sure the collies would win. This judge
came out and pointed his way through the
contestants, but no collie was selected.
WHAT??! "Hey YOU" I screamed at the TV.
"You need glasses or what?" "Collies rule!"
came a shout out of the crowd. I believe
this man's name was "Timmy". To make
matters worse, the winner was a dog that
resembled a mop. How disappointed I was.
2. I took my collies to a groomer one day
and the attendant was very fond of my tri-
color, so I took my other collies out to my
car, came back to pay the cashier and then
take my tri-color back to my vehicle. My tri-
color is a surfer and was waiting for me on
the other side of the counter. I had a tip of
$20 in my hand when I approached them.
My tri-color took the money out of my hand
and gave it to the attendant. A lady with a
small fidgety dog was behind me and in-
quired "How did you teach your dog that?"
I replied "You don't teach that. It's a Collie!"
3. And finally, a touching story. At the Col-
lie Rescue Picnic a couple of years back, I
was walking my collies for a little exercise
for them. We came upon a man and woman
walking their newly adopted collie. As they
got closer, it was evident that they knew
me. The lady began running toward me,
saying my name over and over. She gave
me a big hug and began to cry. I asked her
if she was okay, and what was wrong. The
man and woman both said I was one of the
people that helped them get their new collie
and it was a very good fit for them. After we
chatted for awhile, the realization hit me
that working with Collie Rescue is a wonder-
ful and very rewarding experience!