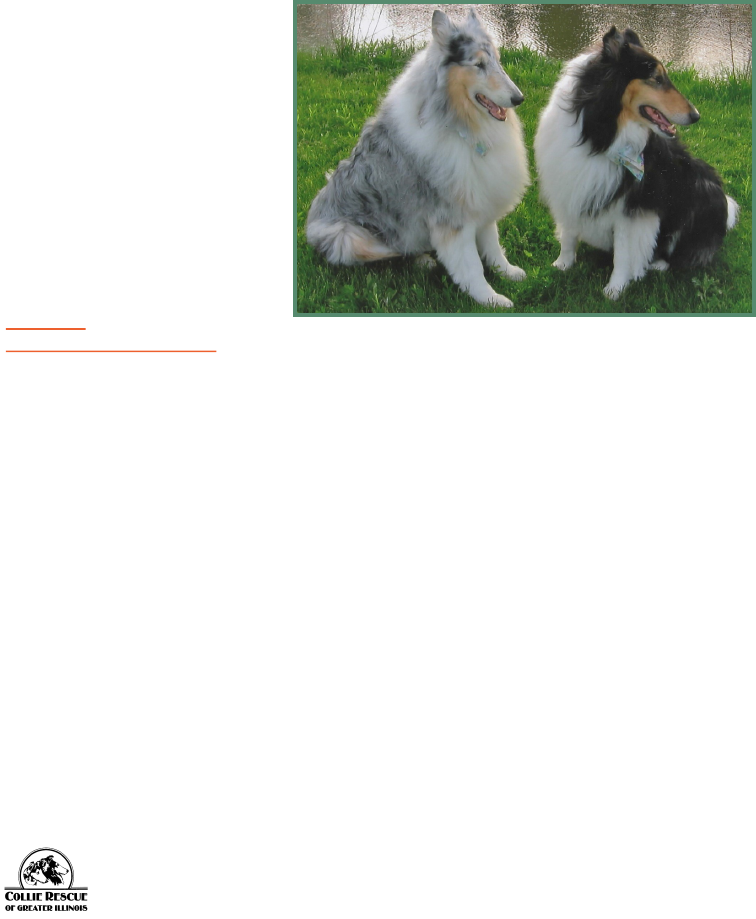 DO Try New Tricks
Most of you have heard,

"

You can

'

t teach
an old dog new tricks,
"
which is actually not
true. Michelle Mullins, a professional trainer,
explains why this old adage is in direct conflict
with another:
"
You are never too old to learn.
"
Mullins believes that you CAN and
SHOULD teach old dogs new tricks. It's true that
some aspects of aging
may slow learning, but
continuing to learn new
things keeps the mind
sharp and greatly increas-
es the quality of life for
any species, including
that of humans. We usu-
ally consider
collies
"old"
when they reach the
range of 8
-
10 years old,
which corresponds to an
75 years for humans. (See
http://
www.pedigree.com
for a collie/human age cal-
Your loving pet enjoys a bond with you
and there is no reason it should diminish as they
age. We tend to do less with our pets as they
get older –
for example, they may get fewer and
shorter walks and less time playing ball, fetch,
Frisbee, or other more rigorous games. But
teaching and performing tricks is beneficial for
pets of all ages because it provides mental stim-
ulation and appropriate low
-
impact
physical
ac-
tivity. It doesn
'
t matter whether or not you
'
ve
trained your pet before –
start today, especially
if your training partner is a senior!
You will want to consider both the physi-
cal and cognitive issues pertaining to your older
dog when choosing what behaviors to teach. It's
wise to check with your veterinarian. Since
some limitations are associated with your dog
'
s
normal aging process, regular preventative
health checkups are a must. Good communica-
tion with your dog
'
s veterinarian will help you
better understand your older dog
'
s
needs, prevent future problems, and
Performing tricks is enjoyable and ex-
tremely useful for both dog and owner. Besides,
the learning process and time spent with the
dog
forms a strong relationship between you and
Dog tricks are not much different from a
person performing gymnastics, doing algebra,
dancing or playing the piano –
all learned physi-
cal and mental skills can be practiced to some
degree of perfection. Moreover, dog tricks are
similar to basic obedience commands. Although
a lot of dogs perform obedience exercises more
reliably than tricks, many dogs have more fun
performing tricks. Tricks should be as precise
and reliable as obedience. Therefore, the same
rules should apply for teaching dog tricks as for
How often do we see dogs fail to "sing" or
"speak" on late
-
night television Stupid Pet
Tricks? How often do we see dogs require six re-
quests before they decide to rollover and play
dead? Whether it's a trick or basic manners, the
dog should be trained to do
it on the first request. If a
football quarterback re-
quired six requests from the
coach to execute the right
play, he would soon be in
the doghouse and be given a
watching a dog perform
tricks is that everybody
smiles, laughs and giggles —
the best reward of all. In
fact, in no time, performing
the trick becomes the re-
ward in itself, i.e., the trick becomes self
-
reinforcing, and becomes a reward for other ex-
ercises. Asking the dog to "Give us a hug" is a
great reward for a good
"
down
-
stay
"

on greet-
ings, and allowing the dog to jump through our
arms becomes a rewarding finale for a lightning
When you're thinking of tricks to teach
your senior collie, there are many to choose
from. A good list is: run through your legs,
speak, high five, dance with a wiggly butt,
shake, walk backwards, put away your toys,
catch a toy, drop the toy, bow, kiss, cover up
with a blanket, get your leash, fetch a ball, go
to a place. If your dog's physical health is
sound, you might
also
try: sit up, rollover, or
crawl. It's important to know your dog's capabil-
ities and not push them too far and cause inj
u-
ry. As you read this list, you may want to add
As with obedience training, try to keep
your verbal command a one or two
-
syllable
word. This makes it easier for them to under-
stand what you
'
re asking of them. Keep training
Celebrating Seniors